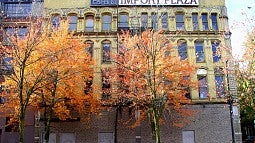 In the fall of 2008, the University of Oregon completed its move into the White Stag Block, a refurbished facility that merges parts of three historic buildings—the Bickel Block Building, the Skidmore Block Building, and the White Stag and Hirsch-Weiss Building.
The gothic Bickel Block Building was designed in 1883 by Justus Krumbein. It has complex geometric patterns in its detailing and is an example of cast-iron architecture built in downtown Portland in the 1880s. The intricate cast-iron columns were made by Architectural Iron Works of San Francisco—the western branch of the famous foundry begun by Daniel Badger in New York in 1842. 
The Bickel Block was owned by German candy-maker Frederick Bickel. He was a business partner of Frank Dekum, and the two opened their first confectionary shop in Portland thirty years before this building's construction. With the success of their candy business, both men began to invest in real estate development in downtown Portland.
The Bickel Block Building originally housed the Parke & Lacey Machinery Co., which used the north half for retail and the south half for manufacturing and warehousing. Parke & Lacey made and sold engines, boilers, sawmill machinery, logging cars, and so forth. The Fraser Paper Co. bought the building in the 1950s.
The Skidmore Block Building, at Northwest First Avenue and West Burnside Street, is an example of a cast-iron front building in the Italianate style. The building was completed in 1889 for Charles E. Sitton—Stephen Skidmore's business partner and brother-in-law. When Skidmore died in 1882, he left the bulk of his estate to Sitton, including the parcel on which the Skidmore Block was built. In 1926, when the current Burnside Bridge was constructed, part of the south façade of the building was removed and the bridge ramp came to abut the building at the second story.
Of the three buildings, the White Stag Building at Northwest Naito Parkway and West Burnside Street is the largest and most industrial in character with its simplified brick and concrete façade. It was designed and built in 1907 as a manufacturing and warehouse building for the Willamette Tent and Awning Company. Max A. Hirsch—nephew of Aaron Meier of Meier & Frank—was the president at the time. When the building was constructed, the entrance faced West Burnside. During the building of the new bridge, the entire south façade was shaved off. The original wood windows were replaced with large steel-sash windows, a fifth floor was added, and the main entrance was moved to the east.