Welcome to the Northeast Portland campus. Academic year 2023-24 marks the first time University of Oregon students, faculty, staff, and community members will experience our new Portland home. This guide is a starting point to help employees and students become acquainted with details such as mailing address, building hours, safety and facilities help, as well as policies and procedures for the new campus.
This resource is provided by the Office of the Vice President for Portland, which is responsible for the administrative oversight of the campus. The contents of this document apply to University of Oregon faculty, staff, students, guests, and external visitors on the NE Portland campus.
View or Download Resource Guide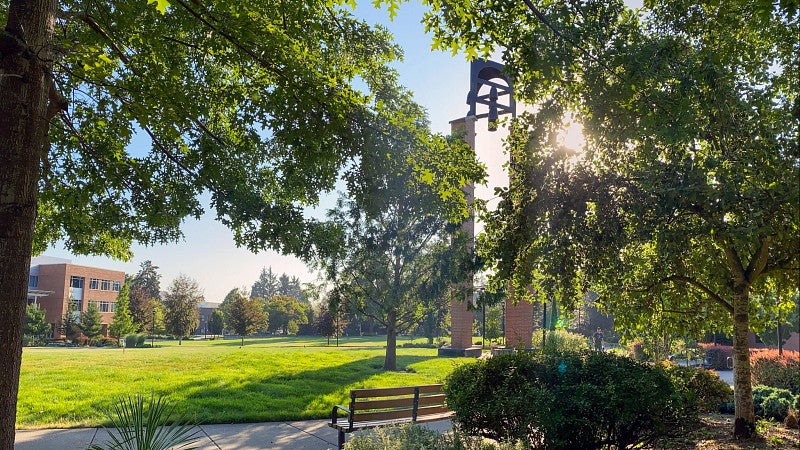 Quick Links
The Northeast Portland Campus Resource Guide references ways to get more info, websites to visit or forms to fill out. Those links are listed below. 
If you have additional questions or find inaccurate information in the guide, please let us know at pdxinfo@uoregon.edu
What is the mailing address? 
2800 NE Liberty St., Portland, OR 97211
How do I request accommodations? 
The University of Oregon is committed to providing access, equal opportunity and reasonable accommodation in its services, programs, activities, education, and employment for individuals with disabilities. To request disability accommodations, students should contact aec@uoregon.edu. Faculty and staff should contact UO's ADA coordinator at workplaceada@uoregon.edu.
How do I get an access card for the campus? 
The NE Portland access card is different from your UO ID. Faculty and staff may request a NE Portland access card by completing this form. A duck ID is required.
How do I get help with building and facility issues? 
To request facilities and grounds service or maintenance, fill out the Work Control Request Form.
For urgent service requests after hours, contact the PPI Dispatch Center, and they will relay requests to on-duty emergency contacts. The phone number is 503-224-7383. 
How do I get training on Work Control Center? 
UO employees can sign up to receive training for the university service request portal. Email workcontrolcenter@uoregon.edu to request access to available MyTrack training. A duck ID is required. 
How do I schedule an event?
Events will be very limited during the 2023-24 academic year to minimize disruption to our campus renovations. For information regarding events and spaces, contact UO Portland Event Services at pdxinfo@uoregon.edu. 
Alcohol requests, approved caterers and other event resources can be found on the UO Portland Scheduling and Events website. 
How do I get to campus? 
Parking: All motorized vehicles at UO's NE Portland campus are required to obtain a no-cost virtual P-zone parking permit through UO Transportation Services' online parking portal. 
Trimet: To plan your route and track buses, visit trimet.org.
Personal Bike: Register with Project 529.
Bike Share: Biketown is Portland's e-bike share system.
E-Scooter Share: Numerous companies provide e-scooter share in Portland. 
Car Share: A Zipcar Pod will be added to the corner of NE 29th Avenue and Rosa Parks Way. 
How do I get technology support? 
Staff can be reached at 541-346-HELP or by submitting a service request.
How do I get classroom AV help? 
Call 503-412-3666.
How do I get help with internet, Wi-Fi and cellular coverage? 
Help ticket for employees
Help ticket for students
Where can I find printers? 
Computer lab & library printing on the second floor of the Library & Learning Center
Multnomah County Library printing in room 120 of the Library & Learning Center
How do I contact campus security? 
If you or someone you know is in immediate danger, call 911. 
For non-emergency security issues, call the PPI Dispatch Center at 503-224-7383. Be sure to let the dispatcher know that your call is related to the UO Portland NE campus.
How do I request a security escort? 
UO Portland offers a security escort service for all staff and students. To request a security escort to your nearby vehicle or transit stop, call 503-412-3700 at least 30 minutes before your planned departure time.
Where can I find the policies and procedures for campus? 
Free Speech and Open Inquiry Policy