Welcome to Portland
Portland is known as the City of Roses, Stumptown, Beervana and Rip City. To us, it's all this and more: A friendly place that balances its busy city life with the natural beauty of the Pacific Northwest. Whether you're hiking through Forest Park, sailing along the Columbia and Willamette rivers, cycling from a coffee shop to a book store, or watching a show at a historic theatre, you'll find a myriad of outdoor and cultural activities to do here.
Our campus offers a variety of groups to join, including the UO Portland Student Council and committees within different master's programs. Outside of campus, you can connect with all sorts of cultural clubs, as well as groups for specific industries.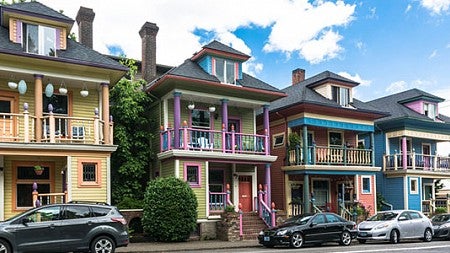 Looking for housing in the Portland area? We have some tips to help you find your new place. Find out about available apartments, connect with potential housemates and learn about public transportation.
Being a student has its perks. From reduced admission to places like the Portland Japanese Garden to last-minute theater or sports tickets, a student ID opens the door to deals across the region. Find out which organizations and businesses offer discounts for students like you.